Send Eid Gift to Bangladesh
15 August 2018
Eid is such a fantastic time of the year. It is a time for us to cherish moment in time with loved ones, friends and family in Bangladesh.
Eid is the best occasion for celebration in Dhaka Bangladesh and exchange of gifts and enjoy this festival with friends and relatives. This gifts makes this occasion more sweet and memorable. What every person look forward to this time of the year is the Eid gifts. Send Eid gifts in Bangladesh from our online shopping website because it's very easy and inexpensive. Exchanging gifts is one of the important function of Eid. These Eid gifts will always be remembered and reared for a long time. Send gift to Dhaka from the great collection of Eid gifts for him and her on our online shopping website. Sending amazing Eid gifts to your loved ones is very comfortable and convenient on our website.
We are premium gifting website so you can choose us to buy Eid gifts to Bangladesh means that you can relax and wait to see smiles on your loved one's face. Use our same day gifts delivery to Bangladesh to present your loved ones with the best Eid gifts. Send online Eid gifts delivery in Bangladesh, will deliver the gifts within the specified time. Flowers are is a best gift for almost all the occasions. Send flowers to Bangladesh for the festival of Eid or for occasion like birthdays and anniversaries. The recipient will surely love to get eid gifts. We understand the importance of the eid festival and thus we deliver Eid gifts all over in Bangladesh at best price which is very reasonable for our valuable customer.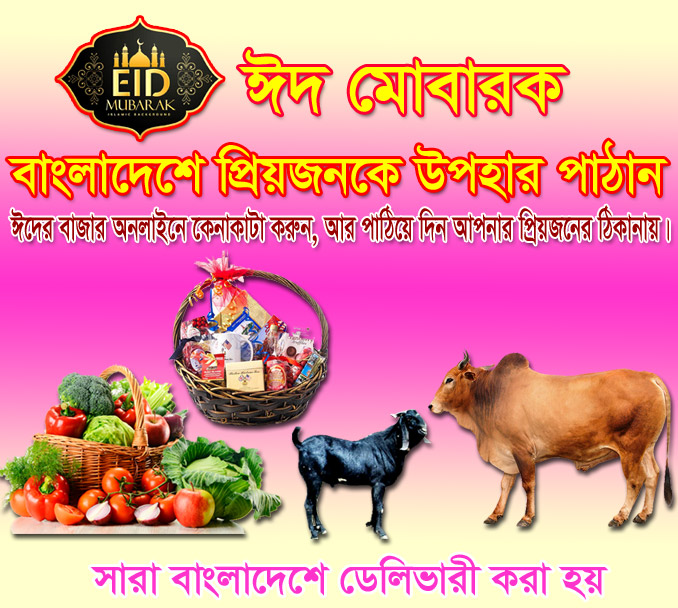 You can gift the Eid Quran and CDs, the Eid Gift Basket, Eid sweets, shari & salwar kamiz dresses, shirt with baby dress and we have everything with us. People from all across the world send their warm Eid wishes to the loved ones living in Dhaka, Chittagong, Sylhet, Mymensingh, Rangpur, Barisal and Rajshahi in Bangladesh. Eid gifts are the expression of love affection, gratitude and respect.
Gifts are an integral part of Eid convivial. A wide range of gifts is available within affordable prices. If your loved ones are staying abroad our website gives you an opportunity to Send Eid gift to Bangladesh without any worries. The gifts will show your love, care and thoughtfulness the function of gifting is an indispensable part of the celebrations on Eid festival. Our delivery services are very safe with secure and prompt. All Eid gifts will be hand delivered with personal care to your loved ones and on time. Our website offers a unique and diverse collection of amazing gift hampers to Bangladesh as Eid gifts for him and her.
Comments