Shop By Occasions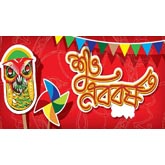 Pohela Boishakh...
Products
Subcategories
Celebrate the most popular occasion Pohela Boishakh with the gift of Shari, Panjabi, Bengali khabar, women's ornaments, Boishakhi card, special sweet for baishakh.
Valentine's Day Gifts...
Products
Subcategories
Celebrate valentine's day by sending best gift like heart shape cake, valentines greetings card, heart shape roses & message heart,valentines Mug, romantic combo gift & many more item.

Iftar Special
Iftar box from reputed restaurant like purbani, fakruddin, prince, muslim , star, bonoful, dhanshiri, yummy . Also you can make your own iftari package by selecting piaju,beguni,zali kabab, somucha, egg chop, alu chop, jilapi, moti laddu, muri, boot, halim & lots of iftari items.