Types of Beautiful Flower Bouquet to Give this New Year
24 December 2021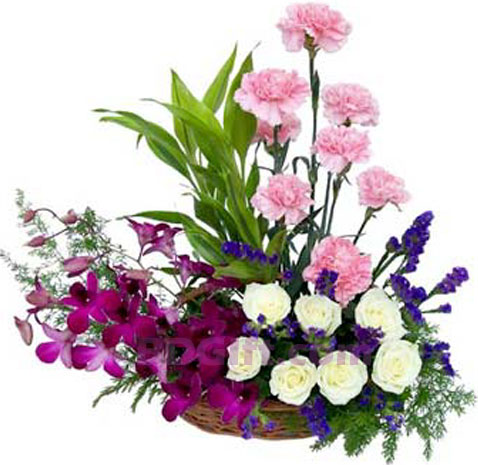 As a New Year's gift, what could be more romantic than a bouquet of fresh flowers? The best way to ring in the new year is with a flower bouquet if you ask us. And because of that, there will be no more searching for gifts or shops, as we have provided you with a list of the best flowers to give this New Year's 2022. In this blog, we have mentioned the most romantic flowers that you can send a gift to Bangladesh for happy new year 2022. Without further ado, let's begin!
Tulips
Tulips are a symbol of a person's positive outlook on life. So, a beautiful bouquet of tulips would be the best way to ring in the new year. Purple, pink, yellow, and white is just a few examples of the many colours they come in. Choosing a red tulip is all you need to do to express your love for your spouse. You can order a bunch of gorgeous and blooming tulips from an online gift shop in Bangladesh.
Roses
This blog would be incomplete if it didn't include roses, so we'll go ahead and have them. Red roses are the most eye-catching of the bunch, even though they come in various colours. Happy New Year! Send a bunch of Red Roses to the love of your life, and we guarantee they will not be less comfortable.
Night Stargazer Lily
As a flower, the Stargazer Lily is considered a bold choice. An excellent choice for looking for wealth and prosperity is this arrangement of lilies. Greeting your loved one with such a thoughtful gift would be a fantastic choice for the New Year. Adding a love note to your partner's face will help you express your feelings in a better way.
Orchids
Well, there's nothing wrong with a flower that's both beautiful and appealing to the eye. It's best for someone with a refined yet straightforward personality to wear these delicate flowers, which have an exotic feel to them—those who make you feel royalty deserve to receive these flowers, symbolizing luxury and opulence. You can pair the orchids and gifts. We recommend you send a gift to Dhaka to your loved ones, especially on New Year.
Carnations
Carnations in pastel colours are a great way to cheer up an introvert on New Year's Eve. The symbolism of pastel carnations conveys your feelings of love and admiration for the recipient. It's a beautiful sight to see someone's face light up with happiness as these flowers bloom in the sun.
After learning about these floral Happy New Year arrangements, what are you going to do now that you know which ones to buy for your loved one this year? Moreover, do you want to know something? BD Gifts has a wide selection of the best arrangements. So, head over to our site right away and begin searching for the perfect gift for your loved one for New Year.
Comments